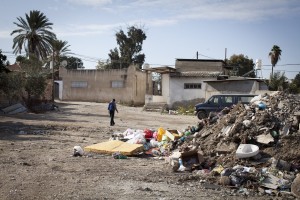 Lod is one of Israel's poorest cities, with a population that combines Jews, Christians, and Muslims, including a vulnerable Bedouin population. A large number of the Jewish residents are immigrants from Ethiopia and the former Soviet Union, struggling with economic and social integration into their adopted country.
Lack of plans affects the lives of residents
In Lod, the lack of adequate plans, with appropriate zoning and building provisions for housing, as well as the lack of land reserves for future growth and development has led to a chronic shortage of housing and severe overcrowding in Arab and mixed neighborhoods. Furthermore, in the absence of adequate plans, residents of the Arab neighborhoods cannot obtain building permits, and therefore, there is an abundance of unauthorized building. These unauthorized buildings are then subject to demolition orders and actual demolitions.
Lack of an adequate outline plan has led to severe strains on the already poor state of infrastructure, educational, health and environmental quality throughout the poorer areas of the city.
Answering the needs of all residents through planning
Approximately two years ago the city initiated the process of developing a new outline plan. By leveraging this opportunity, Bimkom along with community partners will:
Promote the rights of residents to lawful housing and adequate living conditions, especially in mixed-racial or Arab neighborhoods.
Foster greater awareness and better understanding among decision makers and local residents of the various obstacles preventing adequate planning for all population groups in Lod, their causes and possible solutions.
Empower residents in the planning process will ultimately lead to a stimulation of adequate planning models that are in line with the specific characteristics and needs of the residents. Greater involvement of residents in planning their surroundings will also lead to an increased feeling of responsibility and ownership of residents toward the spaces around them.